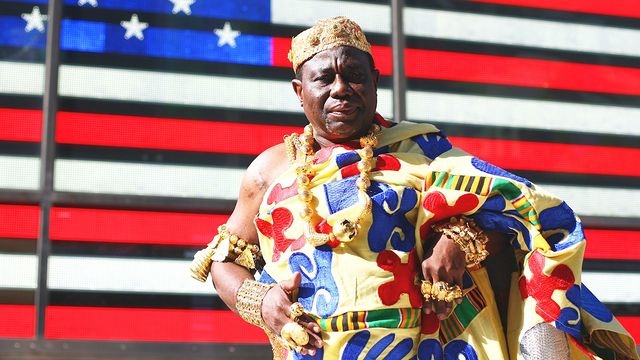 Isaac Osei in Akwamu chieftaincy regalia.
Isaac Osei migrated to the United States from Ghana in 1977 to, like most other African immigrants, pursue dreams of a better life. He settled in New York, making his living as a taxi driver. Isaac later met a fellow cab driver, Elizabeth, who he married and together, they started their own cab company. Upon the death of his brother in 2006, Isaac was made a chief of the Akwamu people in his native Ghana, the responsibility of leading five towns and a palace coming with the position. Isaac and his wife have since shuttled between Ghana and the US, handling tribal and corporate responsibilities in two places that couldn't be more unalike.
"When I come here, it's a different thing. Nobody knows me her," Osei says of New York. "I prefer to be in Ghana though, because [in] Ghana, I get people to worship me."
Watch a
Barcroft Media
feature on Osei below and read more about him in
this
New York Times article.